Why Seaford is HOTTER than Jen Aniston in a red string bikini

If you are thinking about investing in property but haven't selected a suburb, look no further, the bayside suburb of Seaford could be exactly what you're looking for!
I knew there would come a time when Seaford was on everyone's radar and I think that time is well and truly here. It is still early days yet, but the mere fact that people actually know where the suburb is these days is good news all round!
I have owned property in Seaford for 12 years now and I like the area more now for investment than ever before. It has some sexy property fundamentals you just can't ignore!
9 reasons to like Seaford as an investment location:
 Transport – Entrance and exits to the Eastlink and peninsular link sit in the middle of the suburb, along with not 2 train stations.
Distance to CBD – Most people who live in Seaford and work in the CBD commute by train which is approximately 50mins – an hour. Commuters comment that they love being one of the first stops because they actually get a seat and can enjoy reading a good book on the commute.
Infrastructure – Frankston CBD is less than a 6 minute drive from every section of Seaford, and in case you didn't already know, Frankston has everything a resident could ever need. 2 hostpitals, tafe, university, Bayside shopping centre, a home maker centre which includes stores like Spotlight, Harvey norman, Freedom furniture, Anaconda and of course the good ol green shed most renovators call church…..…. Bunnings of course!
Beaches – Melbourne's most stunning beaches stretch from Seaford up a little further north to a suburb called Chelsea. Along the beach there are 2 recreational walking trails. One right beside the beach and the other winding alongside the Kananook creek. Many families, joggers & bike riders use the tracks and it is a friendly, family environment.
St Kilda Football Club training ground – Ladies this one is for you. Want to see the footballers standing in the cold water icing their feet after a training session? Then Seaford is the place to be.
Lattes – Wondering why this wasn't at the very top of my list – me too! Every great hot spotter knows that one indicator of growth is an increase in great coffee shops, and people, this is happening NOW. In just the last year a number of new cafes have popped up along the Nepean highway strip between Chelsea and Frankston. 2 years ago, the best place you could grab a coffee was from Maccas
Speaking of McDonalds – …………..Dominos, Red Rooster, Indian, Thai…they are all in Seaford, along with a beautiful beach side cafe
Price – Seaford is an interesting opportunity for property investment because it has 2 price brackets. $350,000 – $400,000 & $450,000 – $550,000. No matter what your property investing strategy and budget you can achieve the right type of property in Seaford.
Ripple Effect – from this graph you can see that most of the southern suburbs along the bay are out of most investor's budget.
Up until this year I have been buying for investors in the bayside suburbs of Edithvale, Chelsea, Carrum & Bonbeach which have all experienced tremendous growth this past 12 months. But now most investors are priced out of these areas, while Seaford is still affordable.
But for how long?  If you subscribe to the overflow/ripple effect, Seaford is next to rise and we are already seeing a strong upward move in prices for newer properties in the area.
 Here is a median price growth graph showing the median house prices in each suburb accross Melbourne.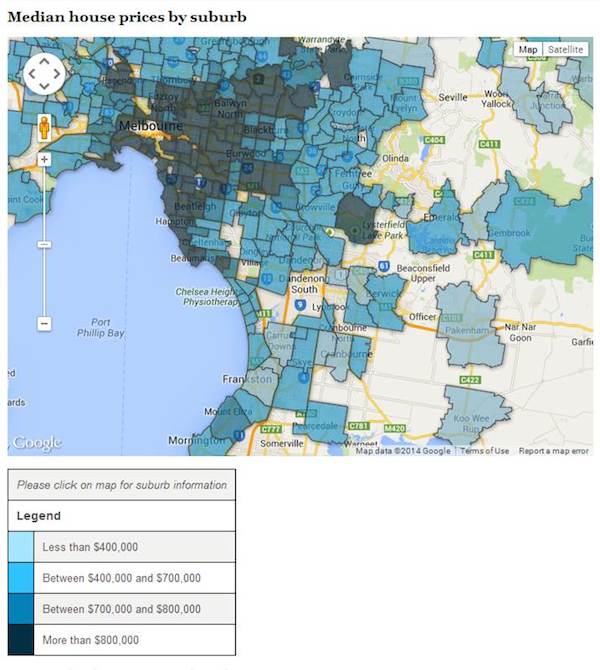 As an investment location Seaford offers a diverse range of property options to meet your investment strategy. You can buy set and forget passive property, dual occupancy sites, a character home in the golden mile and newer town houses and villas. $500k plus will buy you a 3-4 unit development site.
This week I shortlisted a great little brick house with solid bones for $380,000 for a client. With room for a second dwelling to be added in the future, this property would create an extra $90,000 in equity. These types of property are not a dime a dozen but are still available from time to time.
A word of caution
Seaford is a diverse suburb with many different pockets. If you want to invest in Seaford be sure to research each of pocket to ensure you are purchasing in the sections that offer strong growth potential. If you are looking to develop, there are a few sections in Seaford with overlays that will impact what you can do on your site. Working with a town planner or a Buyer's Advocate before buying your site will help you to avoid areas where development is not possible.
If you would like to buy a property in Seaford (or any other surburb that is ripe for investment) and need some help, you can contact Lisa for a Get Acquainted session here to discover if working with a Buyer's Advocate is a good fit for you.
Want to connect with Lisa on social media? You can follow Lisa's work here on Facebook.