If you have ever wondered about buyers agents fees;
this is the ultimate guide to understanding how buyer agent fees & buyer advocate fees are calculated.
From fixed price, to percentage based buyer advocate fees. Right through to showing the difference in price between newcomers to the industry, high volume buyer advocates through to boutique and prestige buyer advocacy firms. We have covered everything you ever wanted to know about property buyer agents fees.
A Word of Caution
While many buyers are price sensitive when it comes to paying a professional fee on top of their purchase cost.  The real focus should be the actual COST to you if you skimp on hiring a buyers advocate or opt for a "cheap" solution. When it comes to property the stakes are high, which means the losses incurred through mistakes made run in the tens of thousands of dollars and in some instances $100,000's of dollars. And we see this happen every week at auction when bidding against inexperienced buyers.
Not to mention the mistakes we are called in to mop up after a bad deal has been done over the weekend by DIY buyers.
Just like a vendor has a Sales Agent on their side working to get them a return on their investment, you should have a Buyers Agent on your side working for you. A Buyers Advocate is your personal independent property advisor working to save you money off your purchase price and more importantly, help you avoid costly mistakes.
An experienced Buyers Agent will ensure you:
Receive Independent Advice
Enjoy complete support & service
Avoid Poor Asset Selection
Access hidden Off Market Opportunities
Ensure you spend your time pursuing the right properties
Sail smoothly through the process either avoiding problems or resolving them to protect you and your interests
For these reasons alone a Buyers Advocate is worth their weight in gold, but they won't ask you for anywhere near that much!
How do Buyer's Agents fees work?
Who pays the buyer agents fee?
As the client you should be paying the fee directly to your buyers advocate. If they are offering a "free" service, you are not working with a truly independent buyers agent. You have stumbled upon a fake and should move on fast. The cost of having the wrong representation, even if its free representation, is too high to risk your most significant financial investment.
What is the fee for a Buyers Advocate?
There are 3 fees to know about when looking at buyer agents fees.
The Total Fee
The Engagement Fee
The Success Fee
The Total Fee
The total fee is typically the sum of the upfront fee + the success fee. However the way this is communicated within the paperwork you sign (otherwise known as an "Authority to Act"), can be confusing due to the legislation dictating how fees must be set out. So be sure to clarify your understanding with your chosen buyers agent.
UPFRONT FEE, ENGAGEMENT FEE OR RETAINER
An upfront fee is payable when you hire a buyers advocate. This is typically non refundable and is paid before any work is commenced by the buyers advocate. Some advocates will offer a low upfront fee so that the upfront fee is not as much as a commitment. Whereas other advocates will command a fair up front fee that covers the work and expertise you will be benefiting from immediately.
In our advocacy business we opt for a fair and reasonable upfront fee. The reason for this is that it shows us that our client is genuine and serious about getting a good result and it means that we can be confident in sharing all of our expertise right up front without fear of a client attempting to gain the inside knowledge and then cancel the rest of the service. Imagine doing 6-8 weeks worth of work for someone and only being paid $500-$1,500 for it.
SUCCESS FEE, PURCHanASE FEE OR FINAL FEE
This portion of the fee is payable once the advocate has successfully negotiated your property and you have an unconditional contract for the property.
The only time this will differ is when the buyers agent has a progress payment schedule.
A progress payment schedule is when you pay your total fee over a number of payments as each month of the search gets underway.
There are four main ways a buyers advocate will calculate their fees:
Fixed Fee for Service
Tiered Fixed Pricing
Percentage of Budget
Percentage of Purchase Price

Fixed or Flat Buyer Agents Fees
The Buyers Agent quotes a set price for your service regardless of your purchasing budget or brief.
Flat or Fixed Fees range from $12,000 for a full service up to $65,000 +gst depending on the buyer agent. Companies who are after volume and have higher client turn over will typically have a lower entry price, whereas a boutique buyer advocate will more likely be towards the middle to top end of that range, as their service is usually a high touch, highly tailored service.  
Tiered Buyer Agent Fees
In a tiered system the fee is usually more appropriately costed for every budget level.
For example, in the above scenario a person buying a $300,000 home may end up paying a $18,000 fee, which is very disproportionate to the purchase price. As would be a $12,000 fee for a $4 million dollar home. Whereas in a tiered fee system, fees are more equally apportioned to suit the budget.
Here are some real life examples showcasing different buyer agents fees: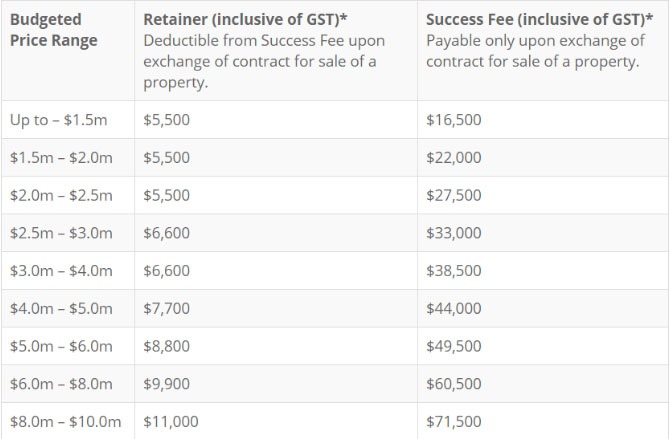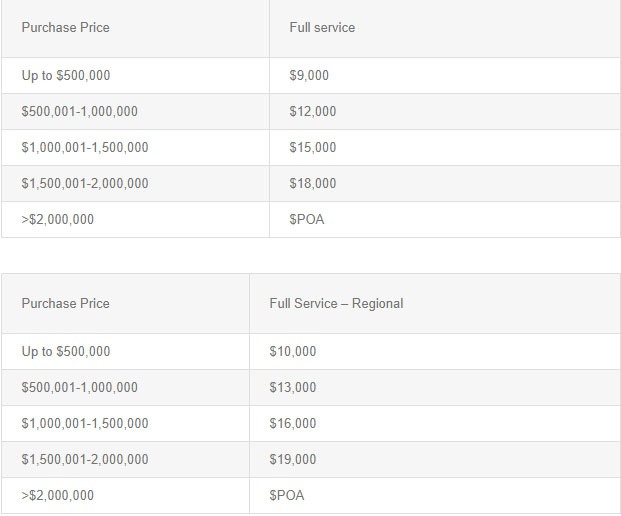 Percentage of Purchase Price
Real estate selling agents use a percentage model when it comes to selling a property. The more they sell the property for, the higher the commission paid. But how does it work when it comes to hiring a buyers agent?
A typical percentage used by buyer agents is 1.5% – 3% of the purchase price for a full buyer advocacy service. There are some high end advocates who charge up to 3% for multi million dollar home purchases and others who reduce the percentage amount as your budget increases. The reason for the higher percentage is that it is a highly specialised market where the search often takes up to 12 months or longer.
Using this structure gives you more flexibility if you have a broad budget and you want to see some house options before deciding on your final budget.
Many buyers wonder if they pay their buyer agent a percentage of the ultimate purchase price, where is the incentive to negotiate the purchase price down. There are a few ways to approach this.
Look at the difference the fee makes to the buyer advocate.
Its negligible.
The difference here is minimal when compared to the bigger scheme of things. Therefore focusing on getting the right advocate is more important than a small difference in buyer agents fees.
Additionally, by the time the negotiations begin on your chosen property a good buyers advocate is 100% focused on getting the very best outcome for you as their client and here's why.
Referral business is the backbone of a thriving buyer advocacy. Being a young, emerging industry, buyer agents are still finding the best marketing methods to find and attract clients. Unlike selling agents who can door knock, call and letterbox drop, prospecting is not as easy for buyer advocates. So therefore referral business is key to survival.
Simple observation suggests that the happier you are as a client of a buyers agent, the more likely you are going to tell your friends and colleagues about the service. Which do you think is more valuable a new client or sabotaging a negotiation for a measly (when compared to the overall cost) $500 – $1,000 in fees?
Percentage of Budget
This buyer agents fee structure hits the perfect balance for every price point. It offers the confidence of a fixed price and removes any caution or concern about a conflict of interest. In this fee arrangement your Success Fee is locked in right at the beginning and won't change, unless your brief and budget considerably changes.
This means that you can comfortably go to your buyers agent with a wide budget of say $800,000 – $900,000 and no matter which end of your budget you purchase in, your fee is set right from the beginning and you never have to think about it again or wonder if your property advocate is working in your best interest.
A word of caution
Property buyers can be wary of choosing a trusted property advisor due to concerns of being ripped off. But Buyer Advocates need to be wary too. Because people who are dodgybrothers.com aren't confined to just real estate professionals looking to rip consumers off. Sometimes consumers are dodgy and have ulterior motives too.
Let me explain.
There are many occasions where property buyers approach buyer advocates and provide a false budget knowing full well they intend on purchasing at a higher amount. They do this to get a lower fee locked in. Most advocates will have precautions in their agreements that make this more difficult for intentionally dishonest people to get away with. 
It is therefore important that you realise that just as much as you are interviewing a buyers agent to see if they are the right advocate for you, the buyers agent is also interviewing you to ensure they are happy to work with you too. Try to do the wrong thing and scam the buyers advocate and you will end up with a black mark against your name. And if you think you will just hit the next advocate up, think again, because word will get around fast. You will end up with quality advocates kicking you to the kerb and refusing you service.
When are buyers agents fees paid?
Most advocates will charge a non refundable retainer up front. The retainer varies from company to company. Companies who are a volume buyers advocate often have low sign up fees to entice property buyers to give them a go. While boutique advocates will usually expect a 30-50% retainer up front.
Some advocates will have a low upfront and ongoing payments at key times throughout the process. Ie) once a month for as long as the search takes. Example of Total Fee $16,000 below:
Example of upfront retainer and Success Fee on completion:
Example of upfront retainer and monthly payments:

What happens if I don't make a purchase?
If you do not make a purchase you may still be liable to pay the full service fee, unless of course the buyers agent has not delivered the service promised.
The reason for this is because some people sign up for a buyer advocates service with unrealistic expectations of what can be achieved and therefore knock back every property that is presented to them. This is a no win situation and oftentimes a successful result is unlikely, regardless of how hard the advocate has worked for you.
The buyers agent in this situation therefore has worked for 6 months with virtually no remuneration. As the upfront retainer usually only covers administration costs.
Some advocates do not think about what happens if their client does not make a purchase and therefore there is no provision in the contract to account for such circumstances. In this case, what you have paid as a retainer will be the only fee paid to the buyers advocate. When this happens the buyers advocate has lost money and so has the client. So it's not a desirable outcome for either party.
Most experienced advocates will not work this way.
Buyer agent fees, whilst they appear on the surface to be a lot of money, are very fair and reasonable for the amount of work, time and expertise that goes into delivering the service. Often a search can take considerable time and resources if the right properties are few and far between, which means an advocate could work for as little as $3 an hour if the total fee was to be divided up into an hourly rate.
In addition to this, the fee not only covers the time and resources, but also safe guards buyers from making mistakes which are often costly when it comes to real estate.
Is a Buyers Agent fee tax deductible if I am an investor?
There is a possibility that a portion of Buyers Agents fee is tax-deductible, however in most cases it is not.
This depends on a range of factors such as the scope of work performed by the Buyers Advocate and whether you hold any existing properties in your portfolio.
For example, if part of the buyer agents role to perform a portfolio review on existing properties already owned, a portion of the fee may be tax deductible.
Investors should seek independent advice from a Certified Practicing Accountant to determine if a legal tax deduction can be claimed in your individual situation.
In Conclusion
When a Buyers Agent provides a quote for your service you need to understand exactly what the service entails and what experience, contacts and resources that Buyers Advocate brings to the table. While the service inclusions may appear on the surface to be the same, a highly experienced Buyers Agent will naturally attract a higher fee for their skills and level of service provided.
Buyer Agents Fees will reflect experience
And therefore the fee will reflect that level of experience. A cheaper advocate may appear cheap with their lower cost upfront, however the true cost of choosing the right professional is more than just the fee you physically pay. The real cost to you is the end result.
For example;
Saving $4,000 – $10,000 off the front end cost of a buyers agent could wind up costing you $50K-$80K in real costs once you factor in missed opportunities you should have secured, but didn't due to a tardy or inexperienced advocate.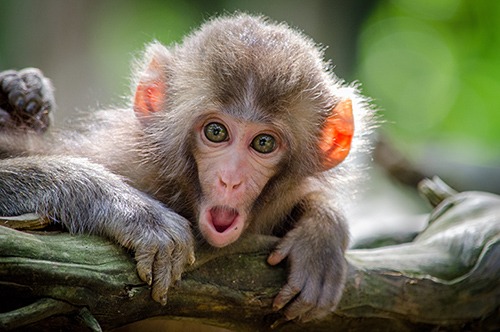 Remember, cheaper fees often equates to inferior quality of advocate or a less experienced advocate.
Many start out charging minimal fees while they build their experience. Which there is nothing wrong with, providing you are aware that you are paying a lower fee due to inexperience. Alternatively, higher turnover companies looking to do volume will usually be one of the cheaper options in the market too.
When researching buyer agents fees in Melbourne we can see a clear correlation to the level of experience and the fees paid by clients. Meaning, more experience costs more money. However I think in the long run, the money you will save through mistakes avoided or opportunities gained that you would not have accessed without the experience and contacts of the most experienced buyers agent will more than make up the difference.
So in summary, try not to focus too much on the up front fee and instead pay the right price for the right level of experience you want in a buyers agent. And choose a buyers agent you feel confident in, respect and can trust.
Let's get together

Say Hello!
Ready to discuss how we can make home buying or investing in property a breeze for you? Fill out the form below and our team will be in touch with you shortly.